Noon's is now accepting applications for each location!
Be successful while being essential for your neighbors as well as visitors to Missoula!
Noon's Sinclair is more than just another stop on the corner for fuel and snacks; we have been Missoula's Hometown Fill-Up for nearly 25 years!
 We need capable and highly motivated individuals with great skills to provide expert customer service as part of Missoula's BEST convenience store crews! We are looking for staff in all parts of the day – mornings, evenings, and overnights.
Expect to quickly attend to customer purchases in a friendly manner; clean and re-stock store shelves, coolers, and other store equipment; keep the store lot and fuel pump areas clean; account for funds and sales information from the shift; and, compile fuel and merchandise sales information for store management. Overnights also have some additional cleaning duties.
WE HAVE COMPETITIVE WAGES AND WE PAY MORE FOR EXPERIENCE!  We provide multiple benefits including 401k, paid sick and vacation time, platinum-level health insurance with flex plans , plus opportunities to earn other incentives are also offered! Overnight Customer Service Reps earn an extra $3 per hour!
Retail or cash handling knowledge is always a plus, but we will train the right candidates, too!
Help keep our hometown moving – morning, noon, and night! Apply today on Indeed, online at noons.com/employment, or at any location!
1250 39th (39th & Russell); 540 E. Broadway (E. Broadway & Madison); 1605 S. Russell (Russell & Mount)
*Exact job duties, expectations, and benefit qualifications may not be part of the summary above and will be detailed more during the interview and hiring process.
Job Types: Full-time, Part-time
COVID-19 considerations:
We've provided face masks, and other needed PPE to employees to use at their option. We also have Plexiglas shields in transaction areas, marked social distancing lines in the stores, plus scheduled hand-washing and sanitization schedules for the safety of staff and customers.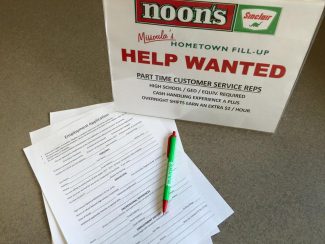 HS/GED preferred. Previous retail and cash handling experience is a PLUS! Overnight shifts earn an extra $2/hr. Other shifts may be available.  Apply at any Noon's in Missoula, through the on-line application, or download the pdf.
Thank you for your interest in our employment opportunities.  This application is the same application used for all of our Noon's Sinclair locations, Diamond Jim's and Hi-Noon Petroleum.
Copyright © 2017 Noon's Food Stores. All rights are reserved.