Noon's is now accepting applications for each location!
Help Dino get Missoula home or out on the town with a smile!
Evening Customer Service Reps typically start in the late afternoon, a little before many in Missoula finish the work day. They are responsible for quickly attending to customer purchases in a friendly manner; cleaning and re-stocking of shelves, coolers, and other store equipment; keeping store lot and fuel pumps clean; as well as accounting for funds and sales information from the shift.
Overnights, Customer Service Reps will meet Missoula's "night life" and will have many of the same duties as the day and evening CSRs, with added cleaning responsibilities as well as compiling daily fuel and merchandise sales information for store management. Overnights earn an extra $2 per hour!
Retail or cash handling experience a plus! We will train the right candidates!
Apply here, in person at any location, or check out our ad on Indeed!
(Exact job duties and expectations may not be part of the summary above and will be detailed more during the interview and hiring process.)
Part-Time and Full-Time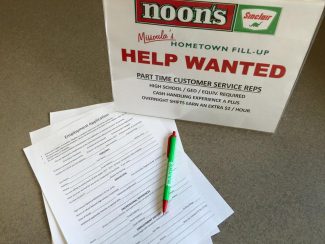 HS/GED preferred. Previous retail and cash handling experience is a PLUS! Overnight shifts earn an extra $2/hr. Other shifts may be available.  Apply at any Noon's in Missoula, through the on-line application, or download the pdf.
Thank you for your interest in our employment opportunities.  This application is the same application used for all of our Noon's Sinclair locations, Diamond Jim's and Hi-Noon Petroleum.
Copyright © 2017 Noon's Food Stores. All rights are reserved.